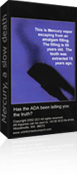 UnInformed Consent produces investigative documentaries and news coverage. These continuing episodes and news coverage are designed to give the public straightforward information on unclear issues.
Based on the premise that an educated consumer, in mass, has the ability to make informed decisions; the educated consumer will recapture their voice and ultimately control the market with their purchasing dollar. The consumer is then empowered with Informed Consent.
 UnInformed Consent is a non-profit organization. It is funded primarily by sales of its video documentaries, and donations and volunteers who still have their day jobs.
UnInformed Consent Episode I – "Mercury a Slow Death" VHS includes:
Debate at the King County Board of Health
Current research
What efforts are being made for protection
Opinion and food for thought
Resources to find your local legislators
Bonus materials

or download to view an excerpt of the video.
To view streaming video, the free RealPlayer download is needed

"What Really Happened At the IOM – online"
Read about it
Purchase Video
"Deadly Immunity" – Robert F. Kennedy Jr.
Full story
Early Feb. 20, 2000 unreleased version
of Verstraeten Study
see PDF file
"Embargoed" Transcript from the Simpsonwood Meeting June 7-8, 2000 in Norcross, Georgia held by CDC Topic: Link between Mercury and Autism
see PDF file
Nov. 2003 Version of Verstraeten Study published in Pediatrics Nov. 2003 with watered down data.
see PDF file
Trailer for Institute of Medicine hearing Feb 2004
see AVI file
Verstraeten's direct response to complaints in Pediatrics
see PDF file
See Press releases
See Press releases 2003
See Press releases 2004
WHAT'S NEW?
Attention Healthcare Providers! We are working on an online searchable database for healthcare providers/dentists \who have taken the time… read more
 COMING SOON...   

"What Have We Done To Our Children?"
"Nuclear Towns - Nuclear People..."
"Insurance Fraud - Public Sector Scam Artists or Your Own Insurance Company?"

USEFUL LINKS	 
University of Health
	US National Academy of 
	Talk Radio 710 KCMO
	The National Academies 
	Institute of Medicine
	Autism A.L.A.R.M
	Altcorp
 RADIO TALK SHOWS     
Click here to go to a listing of Radio Talk Show Downloads. Tune in and find you're not the only one.
 DONATIONS    
If you would like to give money to help support your right to know please click here. Your contributions are tax deductible.